9-11 July 2014 was held the 10-th International Conference on Digital Technologies in 2014. As part of this Conference was held the section of young researchers and scientists (SYRAS).
SYRAS designed for young researchers, scientists and teachers in order to establish and expand international exchanges and cooperation.


This section was carried out in the framework of Tempus CERes — Centers of Excellence for young RESearchers. Each of the articles was assessed for acceptance by at least two reviewers Conference 2014 DT.
The SYRAS organizers are Faculty of Management and Computer Science of the University of Žilina, Slovak Electric Company and the Educational department of the Catolic University in Ruzomberok. Section was held in Žilina University — one of the leading universities in Slovakia.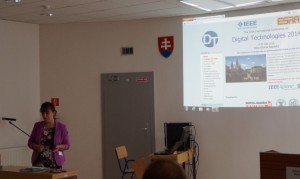 Detailed information